Hot springs
Blær travelled the country in search for the best Icelandic hot springs
Icelanders do not only pride themselves of heated outdoor swimming pools but also our natural hot springs and thermal pools found in the most incredible places. Blær travelled the country in search for the best ones. These places all have in common breathtaking nature and we promise you won't regret visiting them all, we did in just a few days! Make sure to catch the sunset and sunrise at least once while relaxing. Remember to pack your bathingsuit, bring friends and enjoy the moment.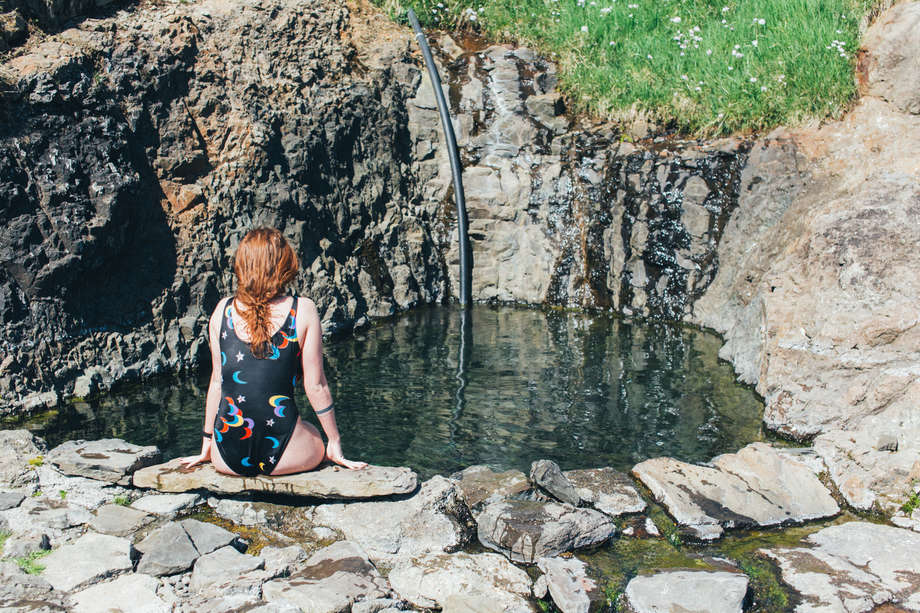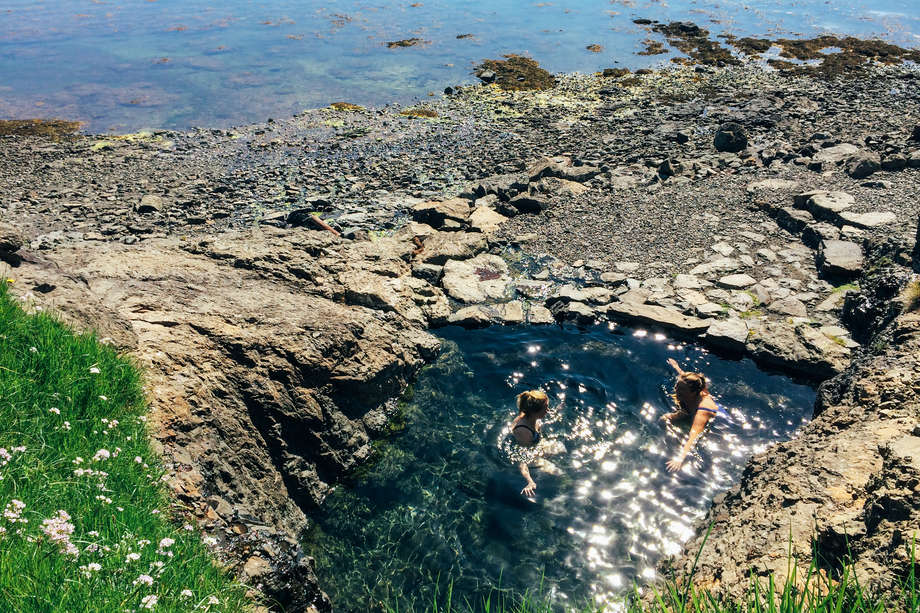 1. Hellulaug in Flókalundur
By the shore of Vatnsfjörður a short drive from Flókalundur is an all-natural hot spring where it's nice to relax and enjoy the amazing view over the fjords. Depending on the time you arrive sometimes the flood tide reaches up to the pool. Close by rocks have been piled up to form a "changing room" for those who dare, it's definitely part of the experience. This is an ideal pit stop coming to and from Brjánslækur where the ferry Baldur comes ashore.
Location: Vestfirðir
Temperature: 38 degrees
Price: Free of charge
Facilities: Caveman style
Opening hours: 24/7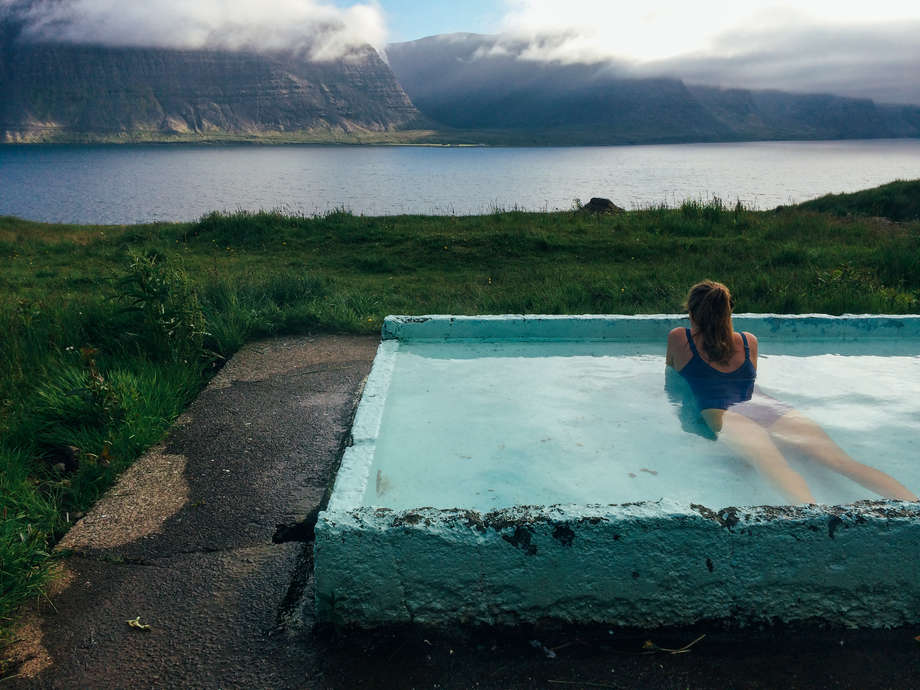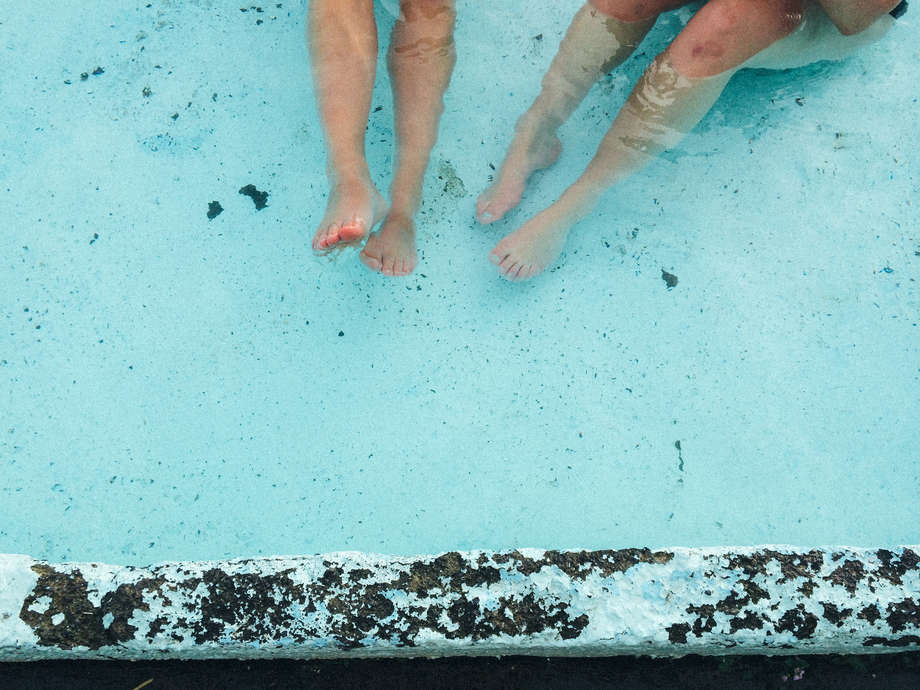 2. Pollurinn in Tálknafjörður
Located on top of a hill overlooking the valley is Pollurinn. Nothing compares to lying there in good company and watching the sunset perhaps with a drink or two. Pollurinn is a luxurious one where you have three choices of pools with different temperature and depth. They also have outdoor locker rooms.
Location: Vestfirðir
Temperature: 38–40 degrees
Price: Free of charge
Facilities: Changing rooms
Opening hours: 24/7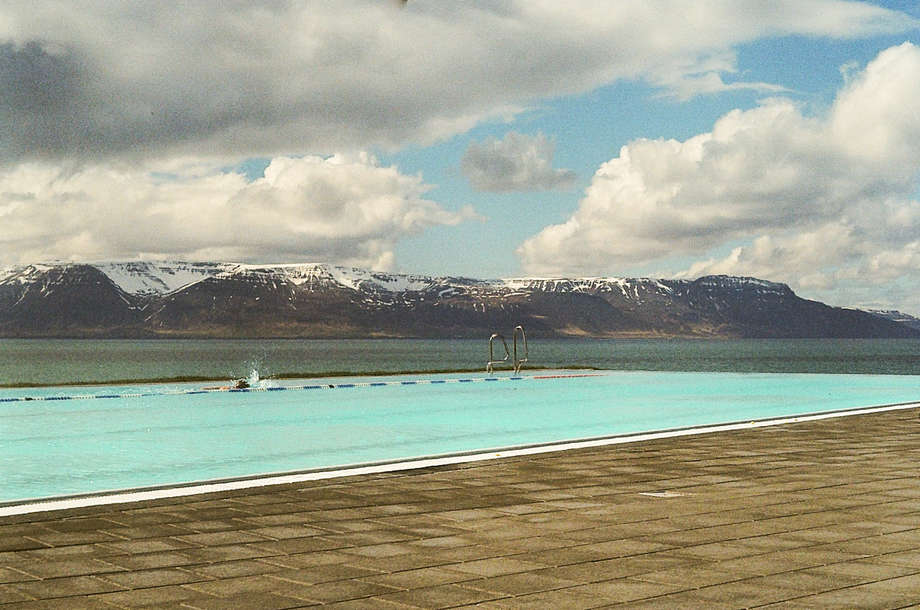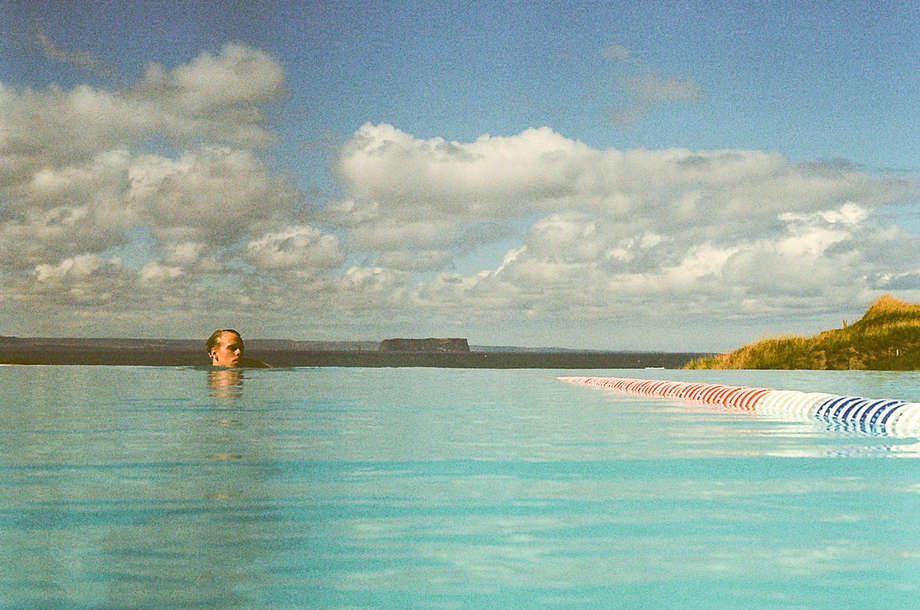 3. Hofsós swimming pool
This thermal pool was a gift from a couple of wealthy ladies in the area. Located on a hillside by the seafront in Skagafjörður with nothing but mountains and ocean surrounding. Try swimming north across the pool with your head just above the water surface and it will seem as if you're swimming out into the ocean, it's magical.
Location: North-West of Iceland
Temperature: 8–40 degrees
Price: 550 kr. for +18
Facilities: Changing rooms and steambath
Opening hours: 09:00–21:00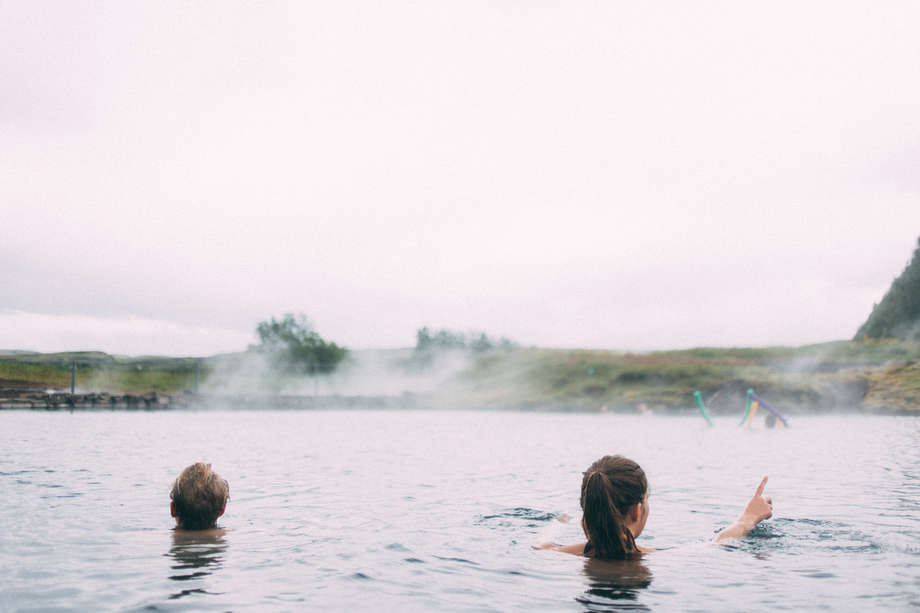 4. Gamla laugin
One of the oldest pools in Iceland actually translates "old pool". It's located in Hverahólmi close to Flúðir one and half hour drive from Reykjavik. This thermal pool was built in 1891 but was recently renovated. Former greenhouses were transformed into spas, terraces built and footpaths. Close by there is a "mini" geysir that erupts every few minutes. Entrance is a bit expensive but definitely worth is.
Location: South of Iceland
Temperature: 39 degrees
Price: 2.500 krónur
Facilities: Changing rooms, lounge and cafe.
Opening hours: 13:00–22:00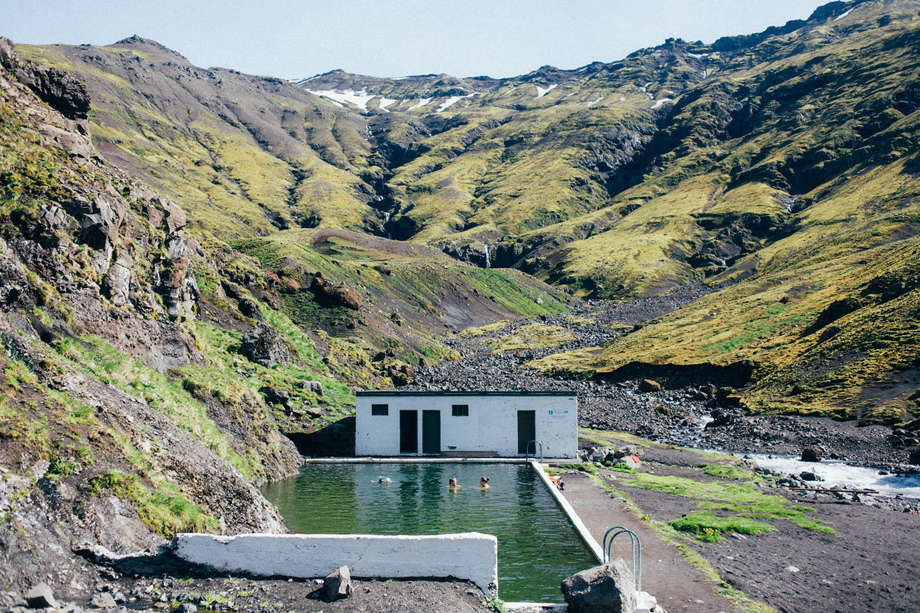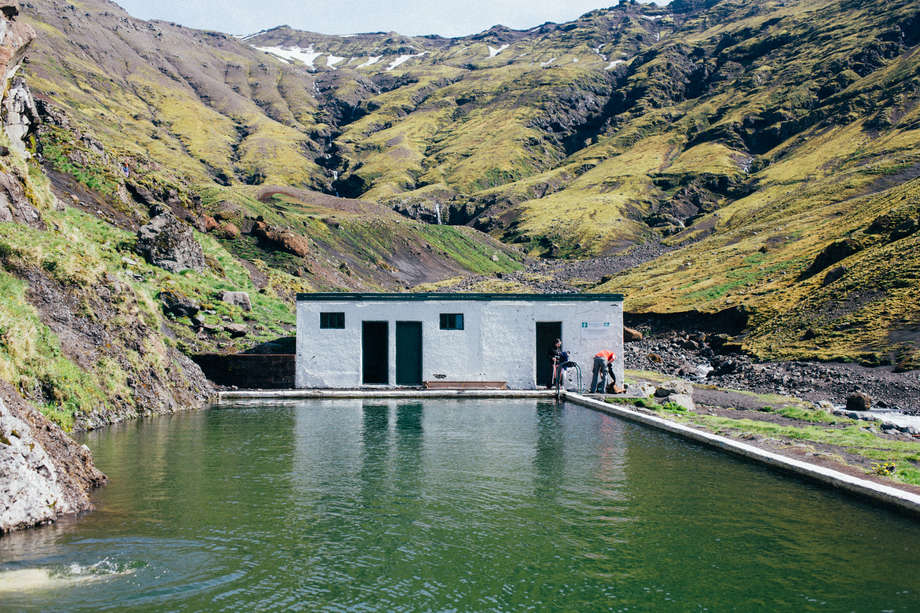 5. Seljavallalaug
By the roots of Eyjafjöll mountains there lies a preserved pool called Seljavallalaug. This unique pool was built up against the hill side in 1923 in the deep valley of Seljavellir. It's a 15 minute walk from the carpark to the pool in breathtaking nature.
Location: South of Iceland
Temperature: 39 degrees
Price: Free of charge
Facilities: Changing rooms
Opening hours: 24/7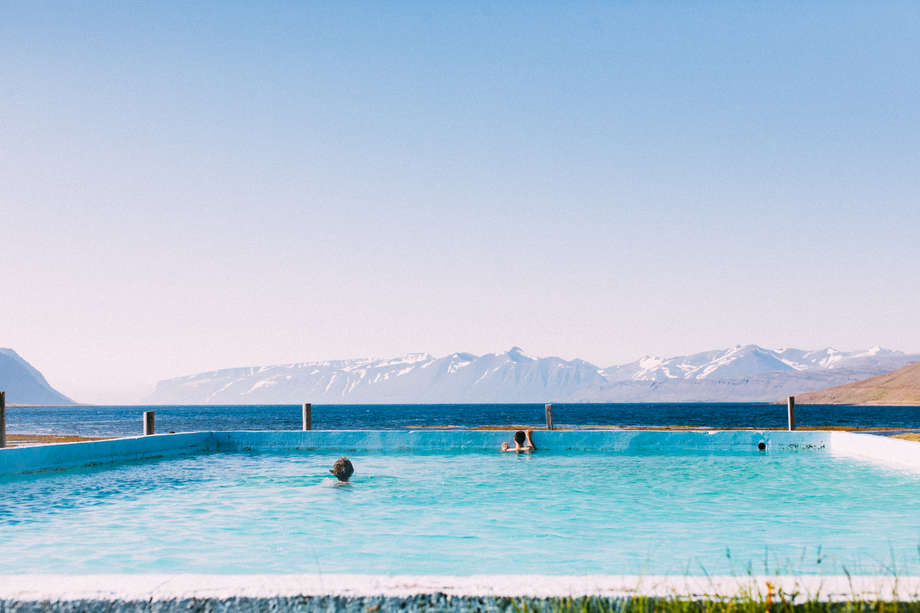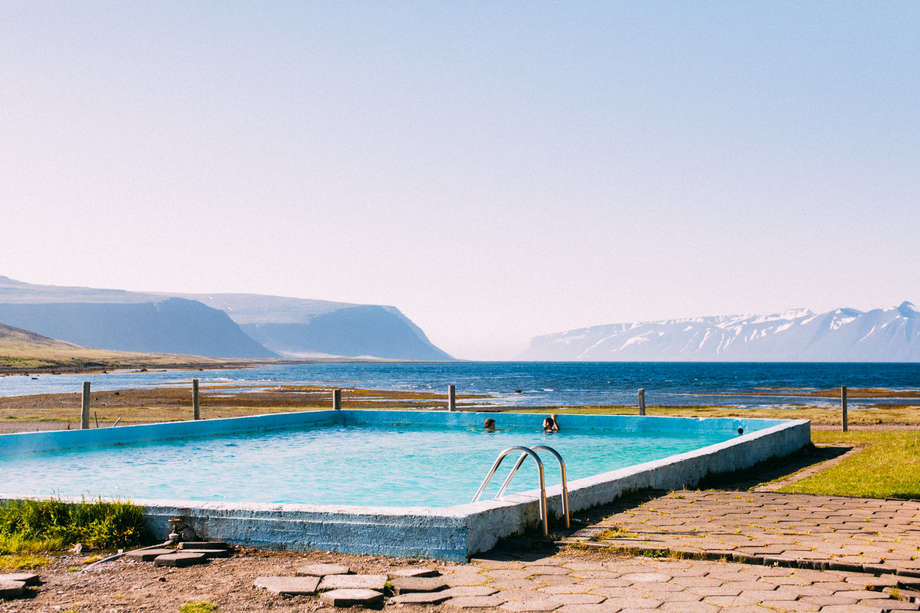 6. Reykjarfjarðarlaug
This one is situated by the highway deep down in Reykjafjörður, southeast of Bíldudalur. Surrounding are soaring seabirds, mountains and fjord views. It's open to everyone all year around with facilities in a small cabin. Just above the cabin there is a small hot spring, but be careful it can be very hot!
Location: Westfjords
Temperature: 32 degrees
Price: Free of charge
Facilities: Changing rooms
Opening hours: 24/7